Around the World in 80 Days
Embark on a journey with us & discover the diversity of our world!
"I see that it is by no means useless to travel, if a man wants to see something new." 
(Jules Verne – Around the World in 80 Days)
Have you always wanted to go on a world tour? We can make it possible.
Embark on a journey together with us!
As part of our cultural events, you have the opportunity to experience different cultures, learn or refresh languages and meet plenty of new people.
The choice of countries – your personal world tour – is up to you.
Where would you like to go with us in the hot air balloon?
WHAT TO EXPECT?
Try typical food & drinks of the country! We reserve a table and you can get in touch with new cultures & people! This is how we support the Viennese gastronomy & make new contacts!
A special kind of evening:
Culinary specialities of the country
Discover the culinary diversity of the countries and try new things. You'll be amazed!
Special cultural features of the respective country
"Travel is the desire for life." (Kurt Tucholsky)
Live and experience the broadest range of cultures, discover and maybe even love the special features of the respective country.
Who knows where or to whom the journey will take you?
A different language
These events will give you greater confidence, including in the language. The trainers and partners from CasaLinguae provide you with support and consolidation: when you're in England eating fish & chips, you want to be able to understand and speak English, don't you?!
Fun and excitement
Fun, as you solve problems together and fun that makes learning easier.
Games, as we ask you to solve small problems that relate to the country and/or culture. At each event you have the opportunity to win a trial lesson from CasaLinguae!
Excitement, as you will always learn, discover and experience something new.
Plenty of new contacts
This is where locals can meet expats and where those with a thirst for learning & knowledge can meet motivated trainers who will provide them with language support and encouragement. Make new contacts and enjoy an online event with like-minded people!
WHAT YOU NEED TO DO.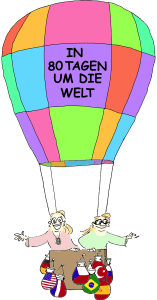 I: Choose the country and language
II: Register in time, together with your partner, friends or colleagues.
III: Take the opportunity to practise the language, discover the culture of the respective country, make new friends, laugh and network.
IV: Just HAVE A GO and HAVE FUN!
As soon as 4 registrations come together, we will reserve a table in the respective restaurant!
Our aim is to bring people together and to demonstrate what actually defines us as people, regardless of which country we come from or by which culture we have been influenced. We want to play our part for the world and bring diversity to life.
Around the World in 80 Days is a linguistic, cultural (and culinary) experience in a relaxed environment. The event is about the promotion of other cultures and the reinforcement of local languages. It is only if we share a common language that we can be closer together than ever before – on an equal footing.