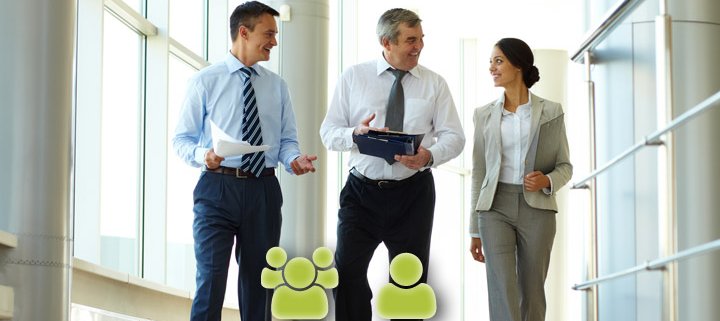 Language Workshops – Communication in the Workplace & Presentation Techniques
You no longer leave business-relevant decisions to chance. The one-day workshops help you to prepare for your next presentation or meeting and to improve your internal and external communication.
The goal is to feel more confident in conversations with other employees or business partners.
Please indicate your language level when booking!
Day Workshop I: "Communication – written & oral"
Duration: 8 hours | 09.00 – 17.00 hrs
Day Workshop II: "Presentation Technique"
Duration: 8 hours | 09.00 – 17.00 hrs
COURSE OBJECTIVES & CONTENTS
Language Workshops
Written & oral communication in the workplace – for your professional success
Do you feel insecure from time to time when you have to use a different language in front of other colleagues, in emails, at meetings or presentations? 
The one-day workshops offer you the opportunity to perfect the language in a protected environment so that you have a confident appearance.
The focus is on interpersonal dialogue as well as the exchange of opinions in everyday professional life. The aim is, among other things, to learn technical vocabulary and phrases that will make it easier for you to communicate in the foreign language.
You can choose from the following languages:
German, English, French, Italian, Portuguese, Russian, Slovak, Spanish, Czech, Turkish
Presentation technique: your next presentations
Meetings: Your next meeting
Telephone conversations/emails/written correspondence: verbal & written communication
At the end of the day you will be able to:
prepare and deliver presentations in the relevant language
participate in meetings/workshops in a foreign language
present facts & figures
use technical vocabulary
write business letters
fill in forms
express wishes, demands and expectations
Among other things, you will then be:
more proficient in using the language and can
follow conversations more easily and chat with colleagues in the office (small talk among colleagues)
make phone calls more confidently in the language you want to use
and write more complex emails
Everyday professional life in a foreign language presents you with new challenges? We are happy to help you feel more comfortable and confident
WORKSHOP I
Oral Communication:
Small talk in the company, telephone conversations, conference calls
Small talk among colleagues, with business partners, customers
Participation in meetings/conversations – important phrases that facilitate your communication
With the help of exercises and role-playing you will lose your inhibitions and will be able to talk to your colleagues, partners and customers.
Written communication:
Emails/correspondence with colleagues & business partners.
Communicate via email, social media and letter/fax if necessary.
Writing emails will give you more confidence here. Create templates that you need on the job and can use as building blocks at any time.
WORKSHOP II
Oral communication with a focus on presentation skills & preparation for a product presentation:
Giving a presentation in a foreign language is challenging, but always doable by practicing on a flipchart or powerpoint and with the support of the trainer.
Here we work together with one of our partners.
Helena Stryjewski (Pharos Training) supports you here in learning the right techniques.